While most of the team is deep in training mode for the upcoming 2012 race season (soon to start in early March), Cypress Gorry has been racing hard all winter as he builds toward the US Cyclocross National Championships this weekend in Madison, WI.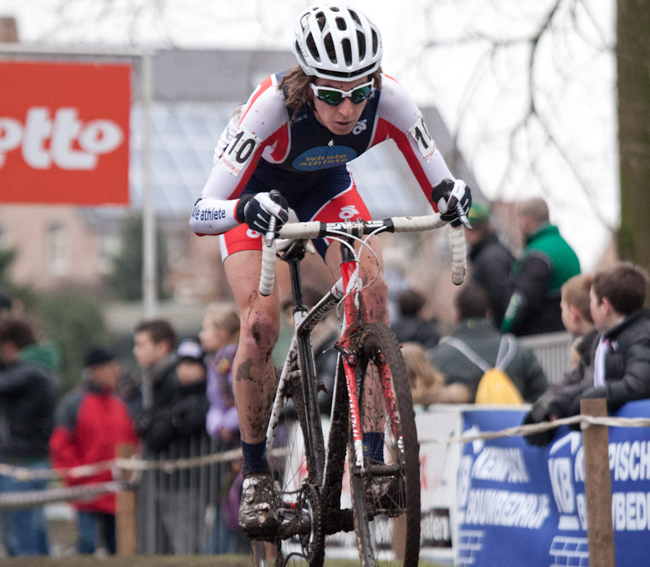 Gorry focused through the Belgian mud at Azencross Loenhout. -- Photo: Tom Robertson
Not only has Gorry been racing cyclocross consistently in the US over the past few months, he recently returned from the Euro Cross Camp, where he raced half a dozen International and World Cup events throughout the month of December.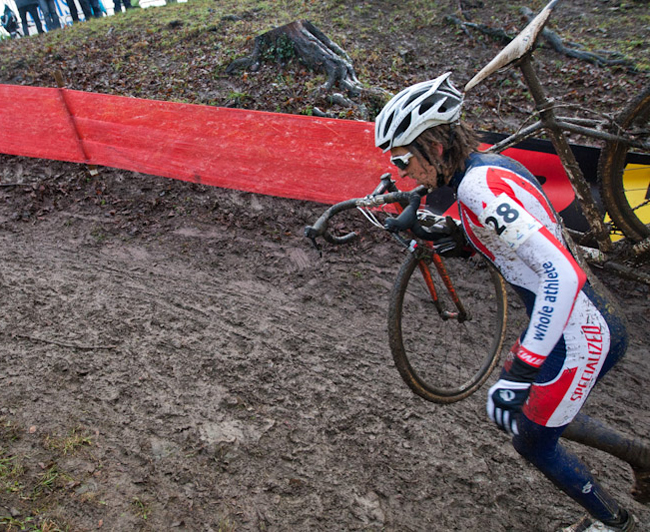 One of the many run ups at Namur, France -- Photo: Tom Robertson
Recently interviewed in Cyclocross Magazine.com, Gorry noted how exciting and popular cyclocross racing is in Europe, even on the coldest of winter days. He describes his final European race of the season in Loenhout, Belgium: "What on first glance appears to be an open flat field actually makes for an incredible race. Many added features, some of which include a flow section, some jumps, and a massive rideable flyover, add to the excitement for both the spectators and the racers. With another large field, the race was very exciting..."
Mentally focused at the startline at Diegem, Belgium -- Photo: Tom Robertson
This weekend will be the next big test for Gorry as he faces the best US junior cyclocross talent at the National Championships in wintery Wisconsin. With an eye on the World Championship Team selection, Gorry hopes to land on the podium in Madison and head back to Belgium for the biggest race of the 2011-2012 season at Cyclocross Worlds in Koksijde, January 28th.
And to really get a taste of world-class cross racing, check out the video recaps of the most recent World Cups and elite European races: